Prepare bundles directly from iManage – Webinar
April 30, 2018 @ 12:00 pm

-

1:00 pm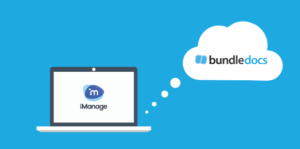 Introducing Bundledocs integration with iManage FileSite and DeskSite
Bundledocs is cloud-based technology for the easy creation of electronic court bundles and deal bibles. Join us for a complimentary webinar on Monday, April 30, 2018, from 12 pm-1 pm EST.
Join us for this informative webinar to see how easy it is to collaboratively prepare bundles directly from iManage FileSite and DeskSite. Topics include:
Integration: How Bundledocs seamlessly links with iManage FileSite and DeskSite
Mobility: How to create and view bundles on the move
Collaboration: How to collaboratively work with others on document preparation
Take documents from anywhere – your folder, case or document management system. Bundledocs organizes them into a neat, numbered, indexed and sectioned booklet in minutes. Instantly ready to save, share or print. No matter how big or small, you can change in seconds. Simple, easy to use, time-saving and massively efficient.
No upfront costs, no training needed, no minimum terms – just get going!