From the desk of Howard Russell
November 30, 2017
I recently completed a tour across the Asia and Pacific regions. Initially, this tour was simply about catching up with RBRO's channel partners and our clients across the region.  I wanted to ensure that I communicated a clear message about our ongoing commitment to them, our alignment with iManage and some of the new and exciting things we are doing.
It turns out the regions had a message for me as well: "We like what you're doing, we believe in the vision and we want to see more."
You see, prior to commencing my trip, I was aware that there were some concerns in the market that iManage might be encroaching on the domain in which its solutions' partners typically played. The development and sale of iManage-related tools seemed to be under threat as iManage sought to improve its competitive standing. One partner asked, "Will you guys be around? Isn't iManage hurting your business?"
A perfectly legitimate question, to which I responded, "On the contrary, they are actually creating new opportunities."
Last September I spent a couple of hours chatting with Neil Araujo (CEO and co-founder of iManage Inc.) as we stood on the corner of Yonge and Adelaide streets in Toronto. It was a great opportunity, after joint client meetings, for the two of us to connect and for me to get a sense of where Neil was taking iManage, and how RBRO would fit in the bigger picture—from his perspective. "It doesn't make sense for partners to be plugging the holes of the iManage platform. Rather than plugging holes, partners should be looking for ways to add value for our mutual customers," he said.
We spoke at length about what that could look like and about other industry examples where great platforms have an ecosystem of related applications that support and enhance the customer experience in ways that make sense to the customer base.  When we considered the implications of the coming changes together, it was clear that there are and will be great opportunities to provide additional value. It was just as clear that partners like RBRO, who were providing a 'customer service' related to plugging those 'holes', would no longer be required to do so—iManage would step up to the plate and do the right thing for their customers.
So what does that mean for us?
It means, rather than complaining about a few lost opportunities, we celebrate the new direction and innovations that iManage has brought to the market. It means we have a shared vision with iManage that recognizes their responsibility to help their customers lower the total cost of ownership and achieve a best-in-class experience by ensuring the platform does not have 'holes' in its core offering. This shared vision calls on us as a trusted premier partner to find ways of helping our customers extend the benefit of their investment through enhancements and companion products that deliver independent value. Many of our solutions will continue to do just that!
RBRO's product management team is in constant dialogue with the iManage product management team, to ensure we continue to align well. Both our product management and engineering teams have been impressed with the level of engagement that we've received from iManage. In particular, we've been extremely pleased with how iManage's engineering team has worked diligently with our team to help ensure that our latest release of Link2DMS will work seamlessly for our shared clients that use this software to make iManage ubiquitous in all aspects of their business.
As adoption of iManage Work 10 increases, we will be ready to offer the value that we have—while ensuring that there is space for others to offer value as well.
P.S. On my travels, I was lucky enough to have a few small moments to take in the local sights. One such place was Perth, Australia while visiting with our friends at Office Information Australia (OIA). On our return from a client meeting, David Shine, OIA's business development manager, took me to the North Mole at Fremantle Harbour (pictured below).  I asked David to take a picture so I could send a post card of sorts to my family. However, as I stood on the rocks looking out at the harbour, I couldn't help but think… there's a sea of opportunities out there!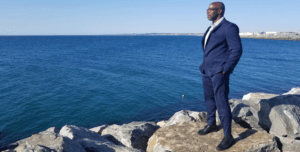 Howard Russell, President and CEO, RBRO Solutions