RBRO Solutions Announces Exclusive Product Webinar Series: DMS is in our DNA
The company looks forward to demonstrating the power of its Workspace Management, Transport Auxiliary Cache, and Link2DMS solutions in upcoming online presentations.
(RBRO Solutions' upcoming webinar series focuses on improving document management efficiency © RBRO Solutions)
Toronto, Ontario, Canada – October 10th, 2023 – RBRO Solutions, a renowned pioneer in delivering innovative software solutions to law firms and corporate legal departments worldwide, is thrilled to announce that the company will host a product webinar series designed to revolutionize iManage document management efficiency. This webinar series titled, "DMS is in our DNA," is comprised of three upcoming 30-minute webinars.
On October 25th, RBRO will kick-off its webinar series with a presentation exploring Workspace Management. This product allows for total administrative control of iManage Work workspace structures through an intuitive visual interface that ensures that workspaces maintain the same structure as their associated templates. Following this event, the company will facilitate a webinar on November 8th examining Transport Auxiliary Cache (AC), a must-have solution for ensuring auxiliary access to content for reporting, integration, and alternate-use cases in emergency situations. The series will conclude on December 6th with a demonstration of Link2DMS, a robust and easy-to-use product for integrating non-native applications directly within iManage Work (upcoming webinar event times, descriptions, and registration links are listed below).
These webinars offer attendees an opportunity to see how RBRO's innovative solutions transform business processes, save valuable time, and ensure seamless business continuity. Legal IT professionals looking for trusted solutions to boost business efficiency should register for these online presentations today to secure their place at the events.
Empower Your Business with Cutting-edge DMS and iManage Efficiency Tools
Webinar Schedule:

Workspace Management (Wednesday, October 25th @ 9:00 a.m. EST/2:00 p.m GMT):
Reserve your virtual seat for an exclusive webinar exploring Workspace Management. Workspace Management simplifies the generation, management, and governance of iManage Work workspaces and templates.
Transport Auxiliary Cache (Wednesday, November 8th @ 9:00 a.m. EST/2:00 p.m. GMT):

Secure your spot to examine the benefits of Transport Auxiliary Cache (AC). Transport AC generates a secure, on-premise or cloud-based repository to host a continuously updated copy of information from iManage Cloud or iManage on-premise repositories, providing read-only direct access to facilitate operations not ordinarily available.
Link2DMS (Wednesday, December 6th @ 9:00 a.m. EST/2:00 p.m. GMT):
Join us as we demonstrate the power of Link2DMS. Link2DMS integrates popular, non-integrated applications with iManage Work regardless of file type. Essential files from litigation software, patent forms, court documents, online forms, and even images from non-integrated applications can be saved, opened, and e-filed easily within iManage with this robust tool.
Assisting Businesses in Improving Document Management Efficiency for Over Two Decades
Since 2003, RBRO Solutions has played a leading role in assisting law firms and corporate legal departments in improving document management efficiency. With RBRO's upcoming webinars, legal IT staff will gain valuable insight into the business advantages of implementing the company's iManage and DMS efficiency tools. As a result, attendees of these presentations will benefit tremendously from seeing RRBO optimize document management processes that will elevate their business to new heights.
"We are excited to introduce our product webinar series, showcasing our industry-leading iManage and DMS efficiency tools," said Andrew Procter, Head of Sales – EMEA at RBRO Solutions. "These webinars offer a fantastic opportunity for legal IT professionals to see the transformative power of our solutions, which drive operational excellence and enhance productivity."
As law firms and corporate legal departments increasingly seek ways to improve document management processes, RBRO Solutions continues to lead the way with solutions tailored to meet the unique needs of legal IT professionals. Businesses looking to learn more about Workspace Management, Transport Auxiliary Cache, and Link2DMS should register today for RRBO's upcoming product webinars to discover firsthand how these products are redefining document management processes throughout the legal industry.
Are you interested in attending RBRO's upcoming webinars? Register now or contact us today to learn more!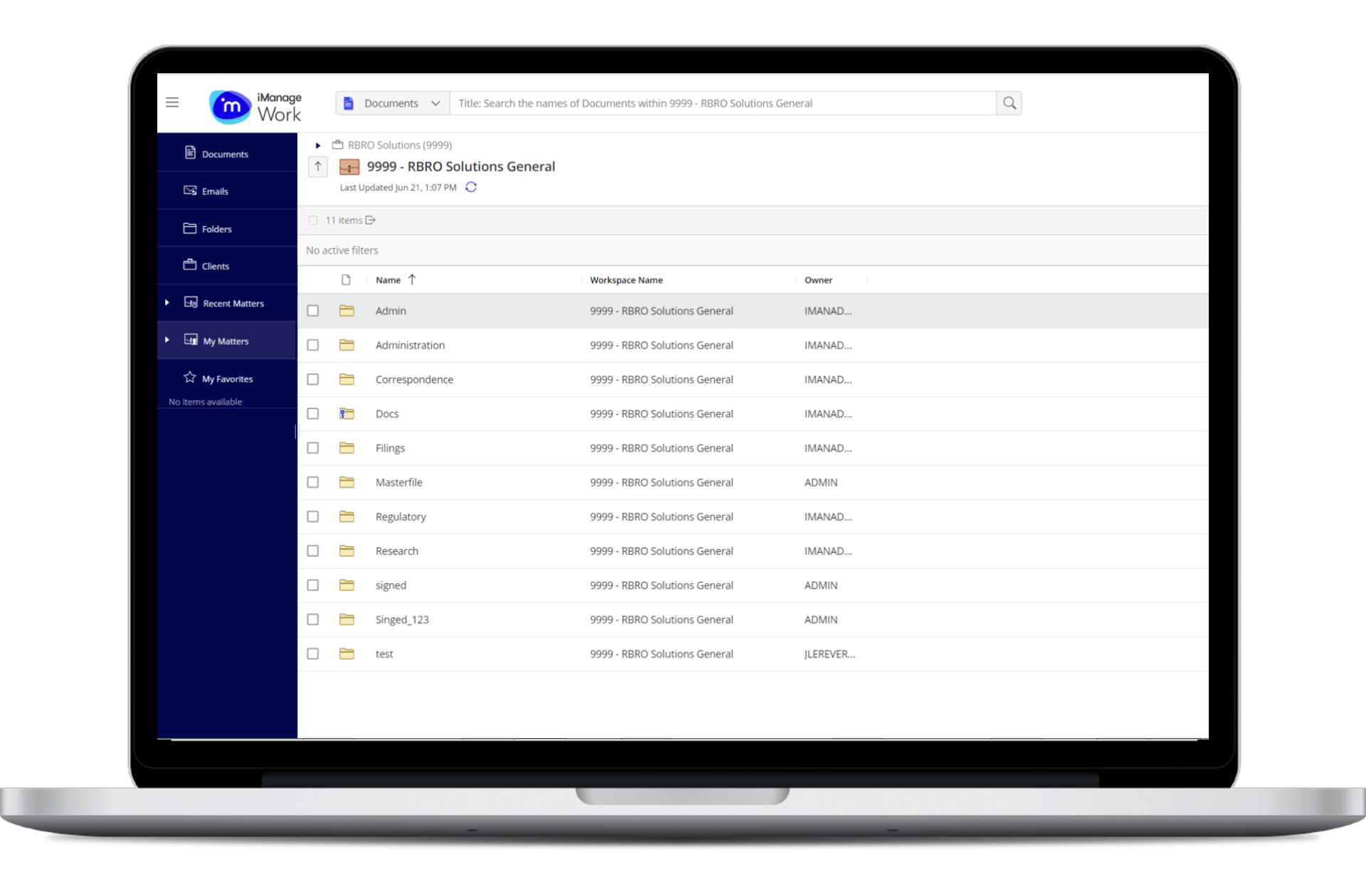 (RBRO Solutions – Workspace Management displayed on a laptop within the iManage environment © RBRO Solutions)
About RBRO Solutions:

A premiere iManage Partner since 2003 and trusted globally by over 400,000 business users, RBRO Solutions is dedicated to helping organizations get the greatest value from their business content and work processes by extending the power of their iManage Work solution. With over 700 iManage engagements, RBRO applies best practices and know-how to simplify iManage implementations, upgrades and migrations. RBRO transforms how organizations get work done with adoptable and scalable improvements in business efficiency and agility that integrate seamlessly across corporate systems, adding value to the iManage Work solution and enabling you to decrease your overall cost of ownership by simplifying tasks and empowering users.
###
For more information on RBRO Solutions or if you would like to schedule an interview, please contact:
Christopher Lawn, Demand Generation Specialist
Phone: (905) 420-3050
Email: clawn@nullrbrosolutions.com