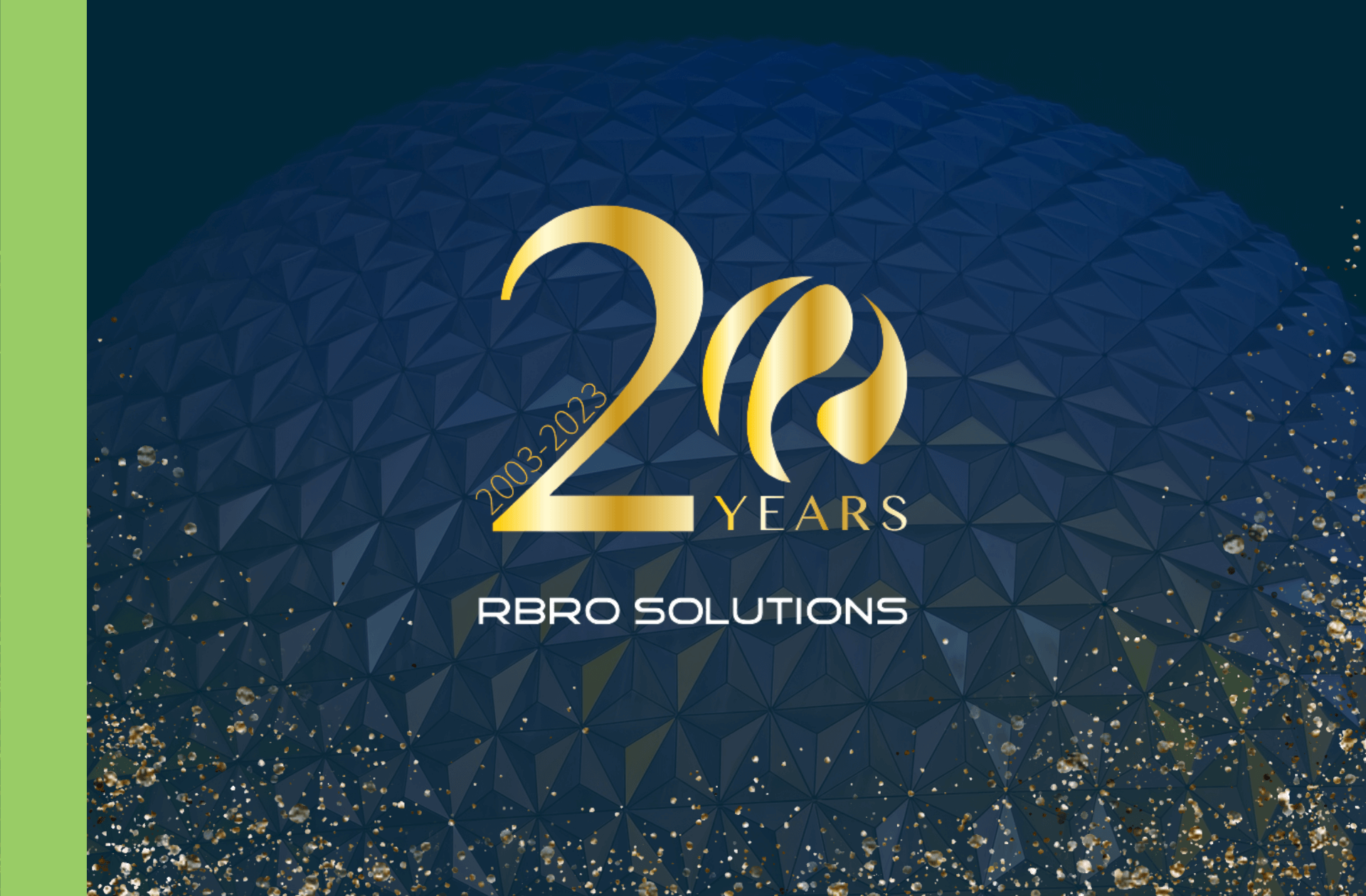 RBRO Solutions Brings 20 Years of Success to ILTACON 2023—industry-leading end-to-end iManage and DMS efficiency tools provider excited to exhibit at annual ILTCON event
The company looks forward to reconnecting with clients and partners and forging new professional relationships at ILTACON after recently celebrating its milestone 20th anniversary
(RBRO Solutions 20th Anniversary logo displayed in front of Disney World's EPCOT structure © RBRO Solutions)
Toronto, Ontario, Canada/Orlando, Florida, USA – August 4th, 2023 – RBRO Solutions, a premiere iManage partner and end-to-end solutions provider in the document management systems (DMS) space, is proud to announce that the company is commemorating its 20th anniversary and will take its industry-leading DMS solutions to ILTACON 2023 at the Walt Disney World Swan and Dolphin Resort in Orlando, Florida, USA, from August 20th to 24th. This tradeshow is the world's largest legal IT conference. RBRO Solutions Business Representatives will be on hand at Booth #508 to demonstrate the power and versatility of their iManage products and DMS tools and to learn more about how they can assist businesses in reaching their unique goals.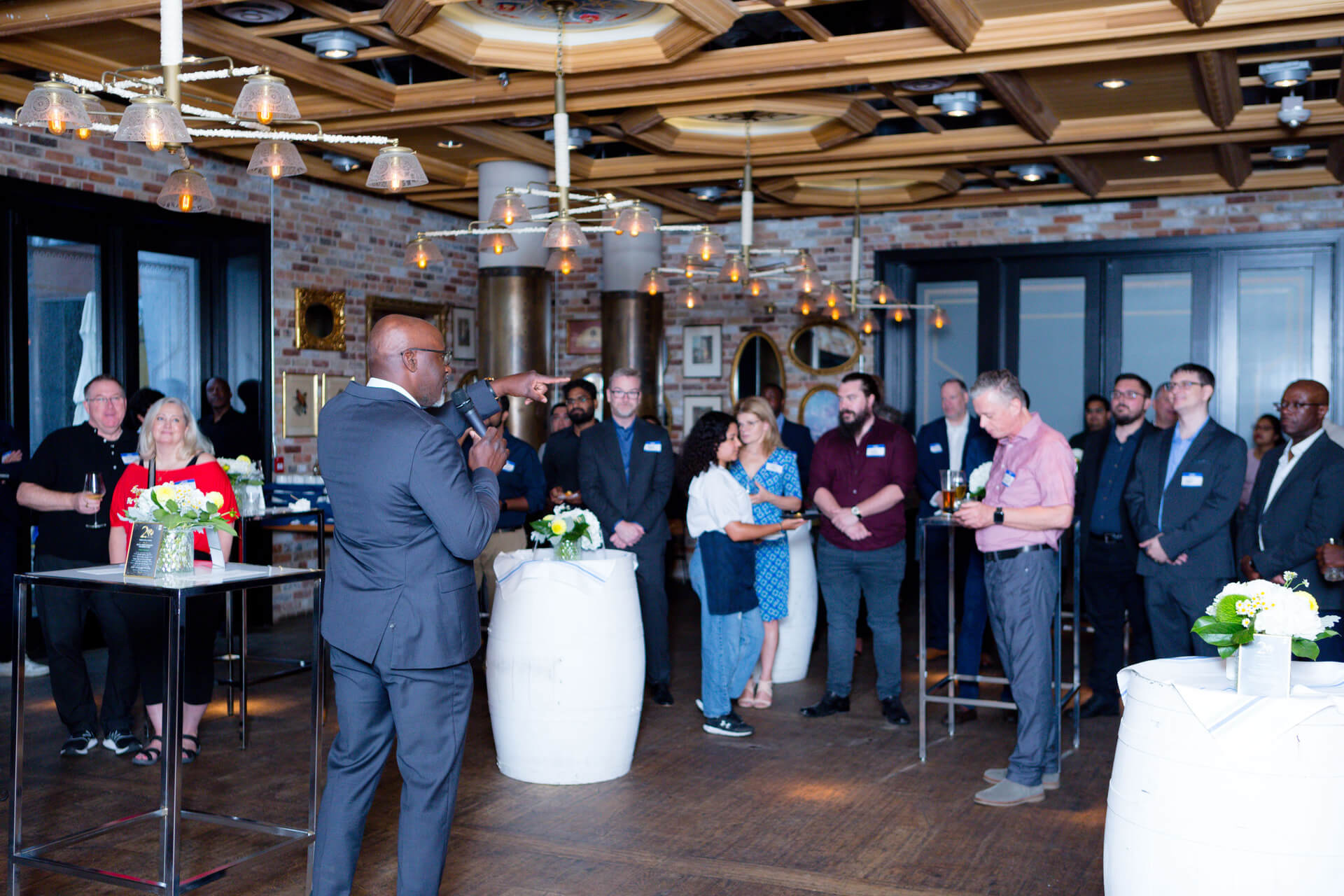 (RBRO Solutions CEO Howard Russell thanks attendees in his opening speech © RBRO Solutions)
ILTACON 2023 is happening hot-on-the-heels of RBRO Solutions' 20th Anniversary Celebration, which took place on July 20th at Cluny Bistro and Boulangerie in the Distillery district in the heart of downtown Toronto, Ontario, Canada. This event was a resounding success, attended by valued clients, partners, and industry leaders. It served as a tribute to the unwavering support of RBRO's clients and showcased the company's journey to the present by highlighting its commitment to delivering top-notch solutions that streamline and expedite document management processes and enhance productivity.
20th Anniversary Celebration
RBRO Solutions' 20th anniversary is a significant milestone; it marks two decades of excellence and innovation in the legal DMS sphere for the company, which has come a long way since its humble beginnings. RBRO's story began in the basement of the Russell brothers in Pickering, Ontario, Canada, in 2003. Since then, the company has evolved into a global trailblazer in the legal technology industry and a leading end-to-end document management solutions provider.
"Our 20th Anniversary Celebration is a testament to the incredible relationships we've built over the years," said Howard Russell, CEO of RBRO Solutions. "It's a privilege to serve our clients and continually contribute to the success of their organizations. We've had an amazing journey characterized by excellence and gratitude. The sky's the limit, so we know that the best is yet to come."
(RBRO Solutions Founder and CEO, Howard Russell, Jonas Software Group Leader, Don Decker, and RBRO Solutions Founder and former CEO, John Russell © RBRO Solutions) 
RBRO's story is closely intertwined with Jonas Software, a subsidiary of Constellation Software, which acquired the company in 2022. Jonas Software is a software acquisition company with over 110 independently managed software brands from around the globe. This strategic partnership has amplified RBRO's capabilities, expanded its reach, and further solidified its position as a top iManage partner and industry leading DMS efficiency tools provider in the global legal IT landscape. As a result of Jonas' acquisition of RBRO, the company was instantly placed in a position where it was poised for tremendous growth. Consequently, RBRO delivered by sealing the deal on projects for significantly large law firms, including closing its largest sale ever with the signing of Baker McKenzie.
Looking Forward to ILTACON
As the industry prepares to reconnect and explore new possibilities, RBRO Solutions eagerly anticipates its participation at ILTACON 2023, one of the most significant legal technology events of the year. "At ILTACON, we look forward to shining the spotlight on our latest innovations and popular tools and engaging with legal professionals to understand their evolving needs," said Russell. "We're excited to discuss how our full-stack DMS and iManage solutions can empower law firms and legal departments to reach new heights of productivity and efficiency."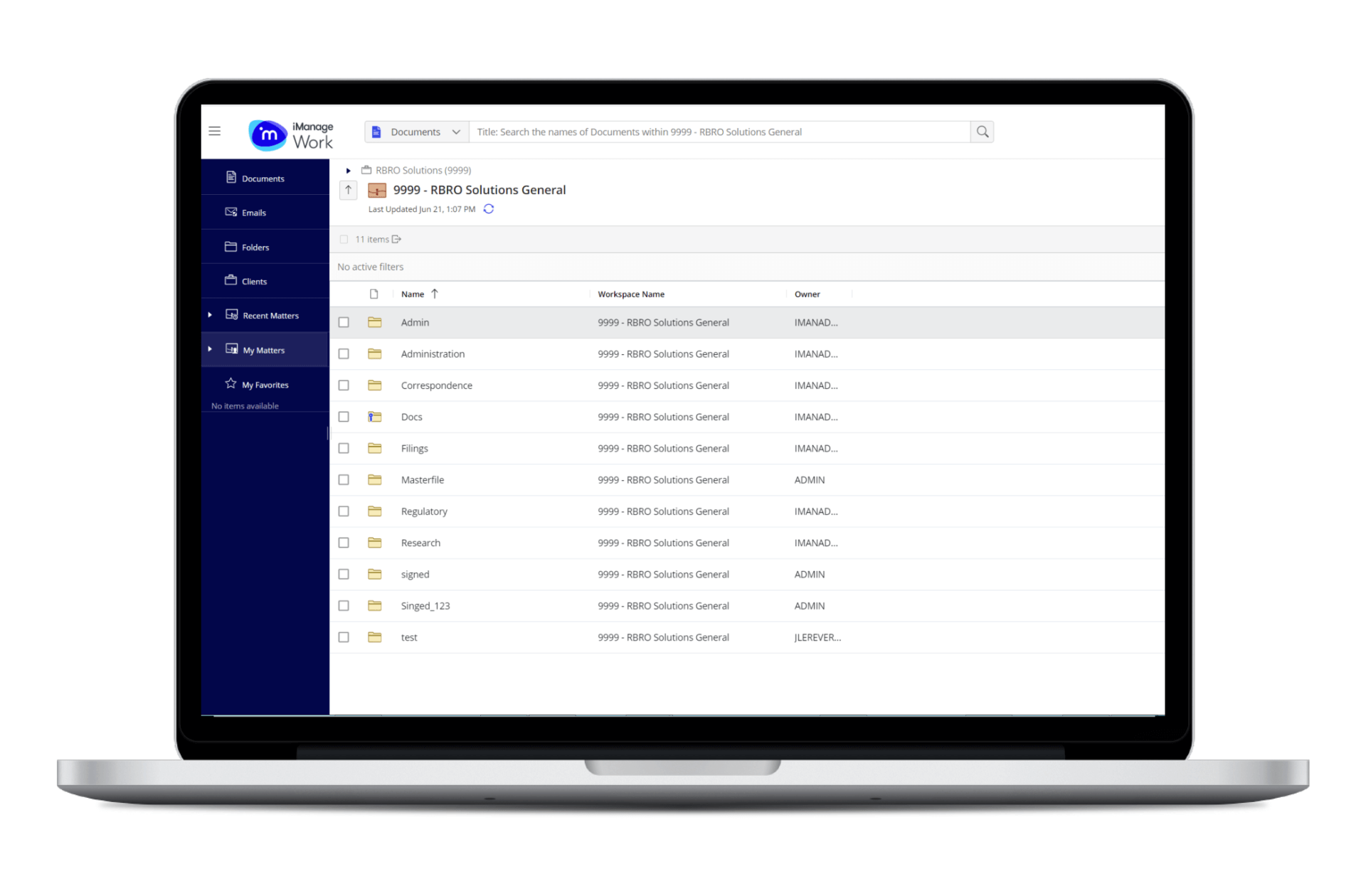 (RBRO Solutions offers a variety of tools to enhance the iManage environment © RBRO Solutions)
From initial consultations to cloud data migrations, product implementations, software integrations, and beyond, with RBRO Solutions, legal IT professionals can feel confident that their business is partnering with a leader that is there every step of the way. That's why more and more law firms, corporate legal, financial services, accounting departments, and other industries worldwide are choosing RBRO Solutions to help them improve how they manage their business—because they know that RBRO has the tools, decades of experience, and firsthand industry knowledge to ensure that they maximize their investment to achieve economic gains.
Are you attending ILTACON 2023? Contact us today to secure your VIP time to meet with our team at event Booth #508 and discover how RBRO Solutions transforms businesses!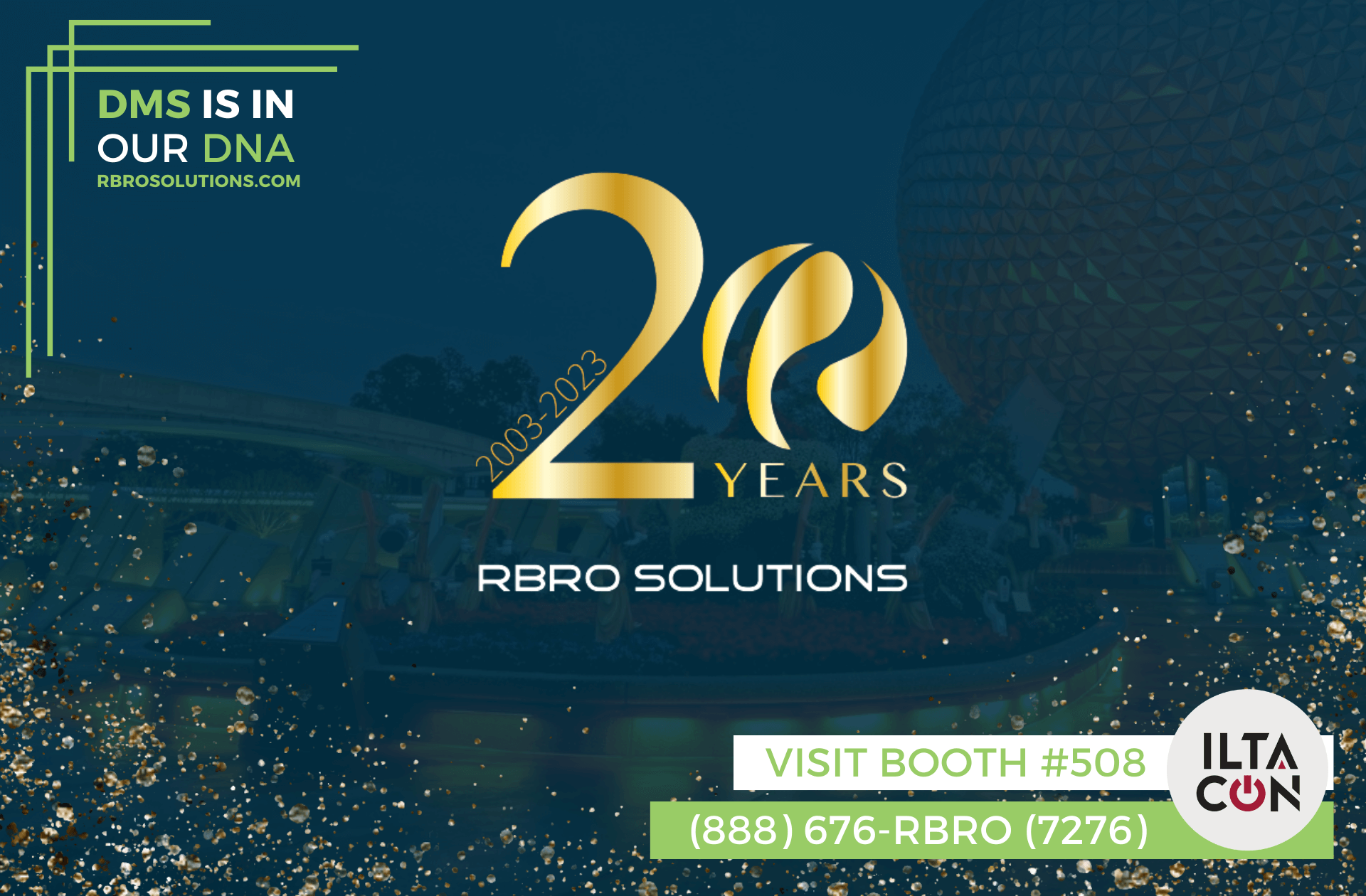 (RBRO Solutions ILTCON 2023 promotional image © RBRO Solutions)
About RBRO Solutions:

RBRO Solutions is a premier iManage consulting company, reseller, implementation partner, and DMS efficiency tools provider trusted globally by over 400,000 business users since 2003. Dedicated to helping organizations get the greatest value from their business content and work processes, RBRO's products help to extend the power of the iManage Work platform. With over 700 iManage engagements, RBRO applies best practices and industry know-how to simplify iManage implementations, upgrades, and migrations. The company is also a full-stack Certified Global iManage Partner, which encompasses RBRO as an iManage Reseller, Integration Partner, Technology Partner, and Training Partner. During the past 20 years, we have implemented hundreds of customer deployments for law firms and legal departments worldwide.
###
For more information on RBRO Solutions or if you would like to schedule an interview, please contact:
Christopher Lawn, Demand Generation Specialist
Phone: (905) 420-3050
Email: clawn@nullrbrosolutions.com